Crime Stoppers of Metro Alabama is part of your community. We work with law enforcement to make our cities safer because together we can accomplish more.
Together we are safer. The success of Crime Stoppers depends on you.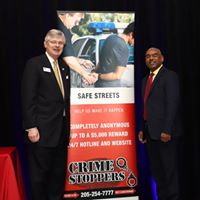 Crime Stoppers of Metro Alabama offers cash rewards for tips that lead to the arrest or charge of felony offenders. Like all Crime Stoppers programs, our tipsters remain ANONYMOUS. We do not have caller ID, and IP addresses from tips submitted via the internet are deleted.
Offering cash rewards is a proven way of getting the information law enforcement needs to solve crimes and locate wanted criminals, but the real value of our program is that it gives citizens an opportunity to help make the communities where they live and work safer.