Blue Campaign is a national public awareness campaign, designed to educate the public, law enforcement and other industry partners to recognize the indicators of human trafficking, and how to appropriately respond to possible cases. Blue Campaign works closely with Department of Homeland Security Components to create general awareness training and materials for law enforcement and others to increase detection of human trafficking, and to identify victims.
Human trafficking involves the use of force, fraud, or coercion to obtain some type of labor or commercial sex act. Every year, millions of men, women, and children are trafficked worldwide – including right here in the United States. It can happen in any community and victims can be any age, race, gender, or nationality. Traffickers might use violence, manipulation, or false promises of well-paying jobs or romantic relationships to lure victims into trafficking situations.
Language barriers, fear of their traffickers, and/or fear of law enforcement frequently keep victims from seeking help, making human trafficking a hidden crime.
Traffickers use force, fraud, or coercion to lure their victims and force them into labor or commercial sexual exploitation. They look for people who are susceptible for a variety of reasons, including psychological or emotional vulnerability, economic hardship, lack of a social safety net, natural disasters, or political instability. The trauma caused by the traffickers can be so great that many may not identify themselves as victims or ask for help, even in highly public settings.
If you or someone you know is a victim of human trafficking or if you have noticed activity that could be a sign of human trafficking please contact law enforcement or Crime Stoppers of Metro Alabama at 205-254-7777.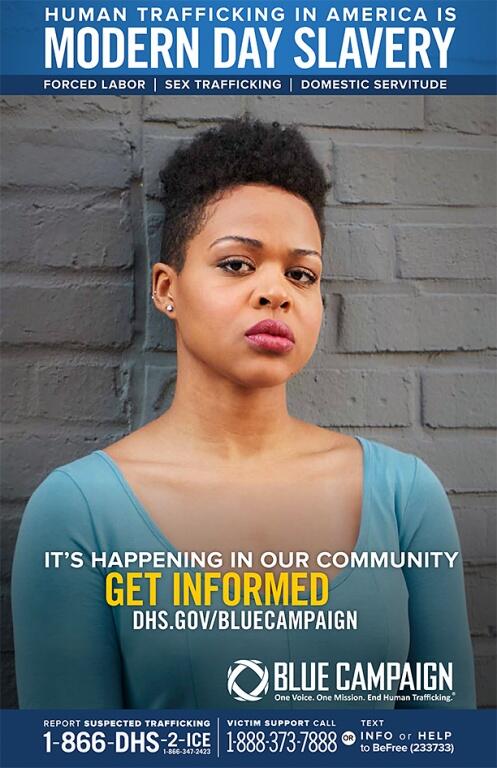 The Blue Campaign information is courtesy of the Department of Homeland Security

Our mission at Trafficking Hope is to eradicate sex trafficking across the nation while helping empower local churches and organizations in their city and state. http://www.traffickinghope.com/